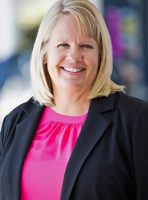 Welcome to St. Gertrude the Great's website. As the principal, it is my privilege and honor to introduce you to our school. Established in Bell Gardens in 1950, we are a transitional kindergarten through 8th grade school that offers our students a comprehensive educational experience grounded in reason and faith.
Catholic identity is central to the educational experience at St. Gertrude the Great. Indeed, one of the greatest services we provide to our students is instruction in the Catholic faith through daily prayer, religion classes, and weekly liturgy. Each student's spiritual formation is guided and encouraged at St. Gertrude the Great, where we have created an uplifting community built upon the Salesian tradition of Christian joy and hope promoted by St. John Bosco. As he stated, "The young person who feels he is in a state of grace with God naturally experiences joy in the certainty that he possesses a good that is completely within his reach, and he expresses this state of pleasure in cheerfulness." (John Bosco, Vita del Giovanetto Savio Domenico, in Opere Edite, XI, p. 236)
St. Gertrude the Great provides a rigorous academic program to prepare our students for high school and beyond. St. Gertrude the Great is a Loyola Marymount University (LMU) iDeal Institute blended learning partner school. This  program focuses on delivering instruction tailored to each individual student's learning level. Through this program we can differentiate instruction and are better able to assess the understanding of each student while also creating a vibrant classroom community. Our goal is to ensure that each student's individual academic needs are met while still maintaining high academic standards. As part of our ongoing efforts to enhance our academic programs, I am pleased to announce that we will be adding Meet the Masters, an art appreciation program, to our school this fall.
Our school's focus on the education of the whole person means that we are concerned with both the mind and spirit of our students. As our mission statement asserts, our goal is to educate our young people to be "committed to leading successful lives of distinguished service and social justice."
I encourage you to visit us here at St. Gertrude the Great Catholic School. Please feel free to call the office and set up a time to meet with me to learn more about our school and tour our beautiful campus.
Blessings to you and your family,
Peggy Weber
Principal